Kusuma Trust Excellence Prize
Celebrating Gibraltar's most inspiring students
The Excellence Prize was our signature initiative in Gibraltar, originally launched in 2008 as the 'Scholarship Scheme'. Open to students who gain exceptional results at A-level or at undergraduate level, each successful applicant is given a one-off grant of £3,000 to support them to make the most of their time at university. Since launching we have given more than £875,000 to Gibraltarian students. 
A prize worth working for
'Having received financial support to study in the leading school for Medicine and Technology in India, we both appreciate the opportunities and experience such institutions and schemes can provide' says our founding trustees Soma and Anurag. 'Many myths prevail which put off even the most capable students from applying to the best universities. We believe that encouraging youngsters to aim high with schemes like the Excellence Prize will have a positive effect on their lives, and many lives that they touch.'
Each year up to six prizes worth £3,000 are awarded by an independent panel to candidates who meet three criteria. First, they must have achieved at least 3 A grades at A-level. Secondly, they must be attending or have been accepted by an academic institution which is well-regarded in their chosen field of study. Thirdly, they must have a record of voluntary or community work, or show that they have made a significant contribution to the community. The awards are granted in December each year after a competitive applications process including an interview with the panel. As well as the financial incentive, the award has come to be recognized as a personal achievement.
Up to six prizes are awarded annually.

Since the scholarship and prize scheme was launched in 2008 we've awarded prizes totaling just over £900,000.

We have supported over 80 students from Gibraltar through their time at university.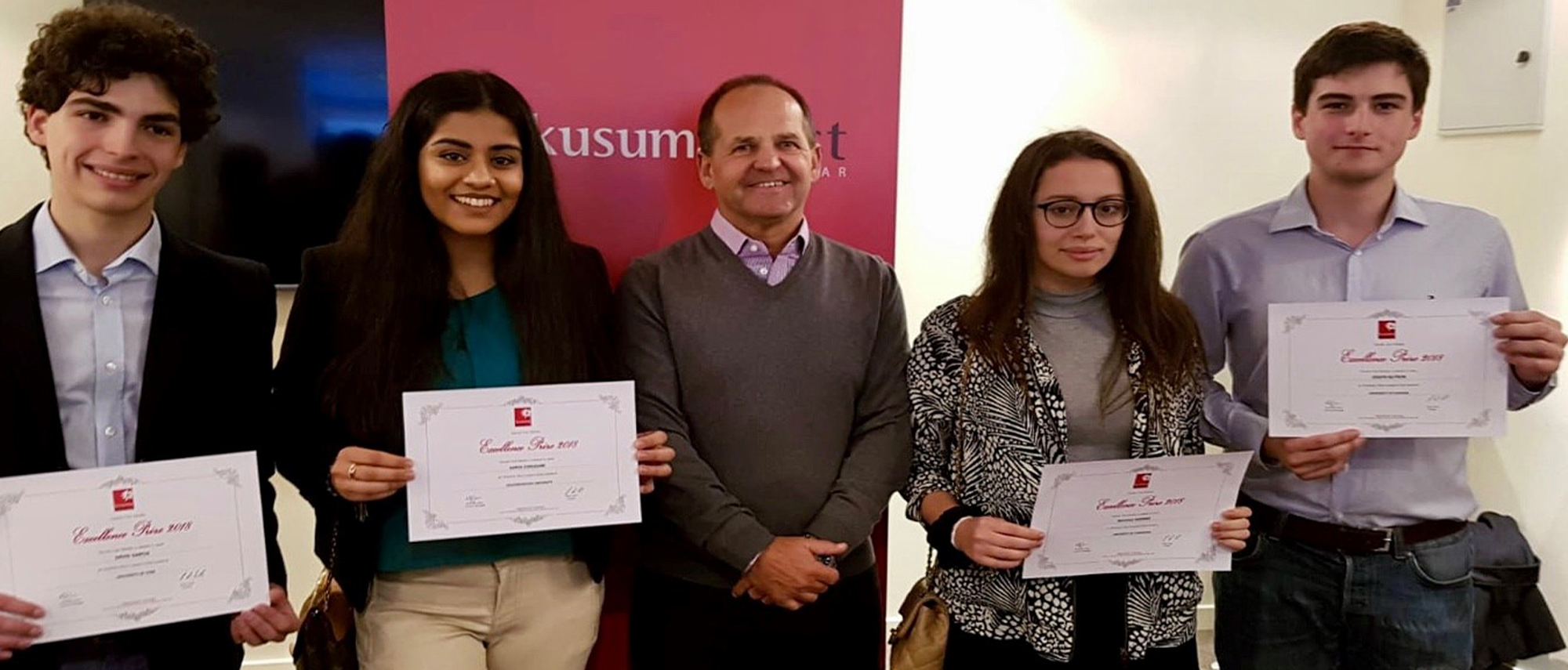 B

uilding pathways to excellence
Peter Isola, a Kusuma Trustee in Gibraltar, said 'The Kusuma Excellence Prize recognises the exceptional achievements of these students, as well as their contribution to the local community. We hope that the money will support them in their academic studies and also help them to enjoy the social, sports and cultural side of university life so that they get the most out of the experience. Kusuma Trust Gibraltar is keen to encourage local students to work hard, apply to the very best universities, and to make the most of their potential.'
Our scholarship scheme was originally set up to promote the study of medicine, technology and engineering, mathematics or certain business related subjects, and to encourage the reading of these subjects at a top university. Over time this evolved to include applicants for performing arts and fine arts, humanities and sports excellence. We have also awarded grants for students attending leading US universities.
'The Kusuma Trust has given me an opportunity that not many people are lucky enough to have. Not having to think about financial problems has allowed me to channel my time towards my education, especially as living in London can be extremely expensive! I've been able to do things, such as a voluntary placement in the NHS and starting sign language lessons, which would not have been possible without Kusuma. For this reason I would definitely recommend it to anyone who is eligible to apply."'