Tata Institute of Social Sciences & Sadhana – Saarathi Manual
Developing a best practice manual for child welfare workers
With almost one fifth of all children in the world living in India child welfare is hugely important, yet it is severely underfunded. We embarked on a project with Tata Institute of Social Sciences (TISS) & Sadhana between July 2008 and January 2013. We gave £45,575 to TISS to develop the Saarathi training manual for child welfare workers, then a further £88,998 in collaboration with UNICEF to roll out the manual to Sadhana.
A vast challenge
There are millions of vulnerable children in India, but very limited resources go towards helping them and supporting those who are best placed to help them. We supported TISS to develop the Saarathi training manual which would support professionals on the front line of child welfare. The manual and training helped ensure legal rights are made available to children who are at risk or victims of abuse, and to improve their counselling skills.
Sharing more of background on the project, our Executive Trustee Soma talks about the challenge in the country where she grew up: 'more than one-third of the population is below 18 years, and India has the largest number of children in work. Having supported partners working with vulnerable children, we knew they wanted to know more about the laws governing child protection and a section on laws was included in the manual. We heard from participants in the workshops that they really appreciated the section'.
Over 70 senior members of child welfare organisations helped shape the Saarathi Manual.

150 senior staff from 20 states attended 'Training the Trainer' programmes.

1,500 frontline workers were trained on the manual.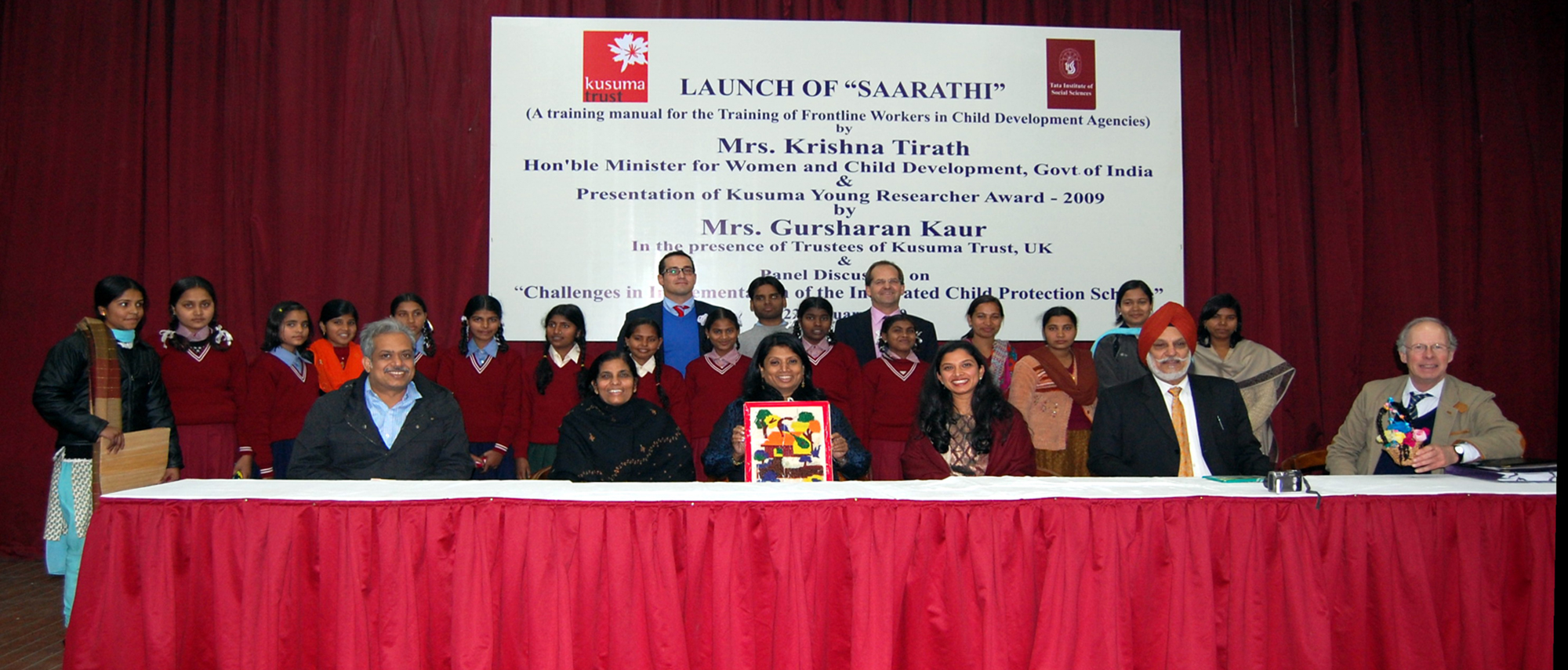 A blueprint for success
To get the project underway, more than 70 senior members of child welfare organisations, plus university professors and government officials, took part in three consultations to pilot test and develop the Saarathi Manual.
The manual was launched on 22 January 2010 and 150 senior staff from 20 states were invited to attend 'Training of the Trainer' programmes in Delhi, Mumbai, Hyderabad and Guwahati, so that they could in turn teach their frontline teams all across the country. As part of the subsequent training they also carried out a baseline survey to assess the skills and knowledge of child welfare workers.
The manual and training was so well received that in 2011, UNICEF and the Juvenile Justice Department (in Andhra Pradesh) asked for the training to be rolled out to over 1,500 government social welfare workers. In 2013 a follow-up survey found that the manual and program had significantly increased the skills and legal knowledge of welfare workers in India.
This project has national policy relevance because, in addition to being a high-quality manual, there is scope to translate the manual into other regional languages, and also to use it to train the huge cadre of social welfare personnel who are responsible for the promotion of child rights and protection across India.
'The Saarathi training has taught me how to deal with vulnerable children in appropriate ways and to handle difficult situations.'