The Akshaya Patra Foundation – Midday Meals
Midday Meal Kitchen Construction and Feeding programme
In 1995, in response to child malnutrition, the Government of India launched the National Programme of Nutritional Support to Primary Education (NP-NSPE) with the aim of providing free school meals to all primary school children on working days. This program was hugely influential in boosting the enrolment of primary age children in schools. Between April 2011 and March 2014 we invested £1,414,634 to support the Government of India's Mid-Day Meal Scheme in in Odisha. At full capacity, the kitchen produces an impressive daily output, feeding 70,000 school children in the state.
Nourish the body, nourish the mind
Our founding trustees Anurag and Soma have concentrated a great deal of effort on improving education standards in Odisha, and the Midday Meals programme is an important part of it. Not only does providing meals encourages children to attend school, it also motivates parents or guardians to send them to school – for some children, the school meal is the only wholesome meal of the day.
The grant we provided supplements the Government's NP-NSPE scheme, first by funding the construction costs of a central kitchen in Bhubaneswar, then by scaling up the operations to full capacity – ensuring nutritious meals are prepared, transported and served in hygienic conditions every day.
The state-of-the-art kitchen is equipped with innovative steam boilers used to steam rice, cleaning machines, cold storage, custom-made utensils, conveyer belts and hygienic packing and cleaning facilities. Once the food leaves the kitchen, it's transported to schools in specially designed vans that are insulated from the heat and free of dust so that they can keep the food fresh.
Each day the kitchen can prepare 5.5 tons of rice, 3.5 tons of vegetables and 1.2 tons of dhal

The kitchen ramped up to feed 65,000 children in 2015

At full capacity, the kitchen will feed 70,000 children per day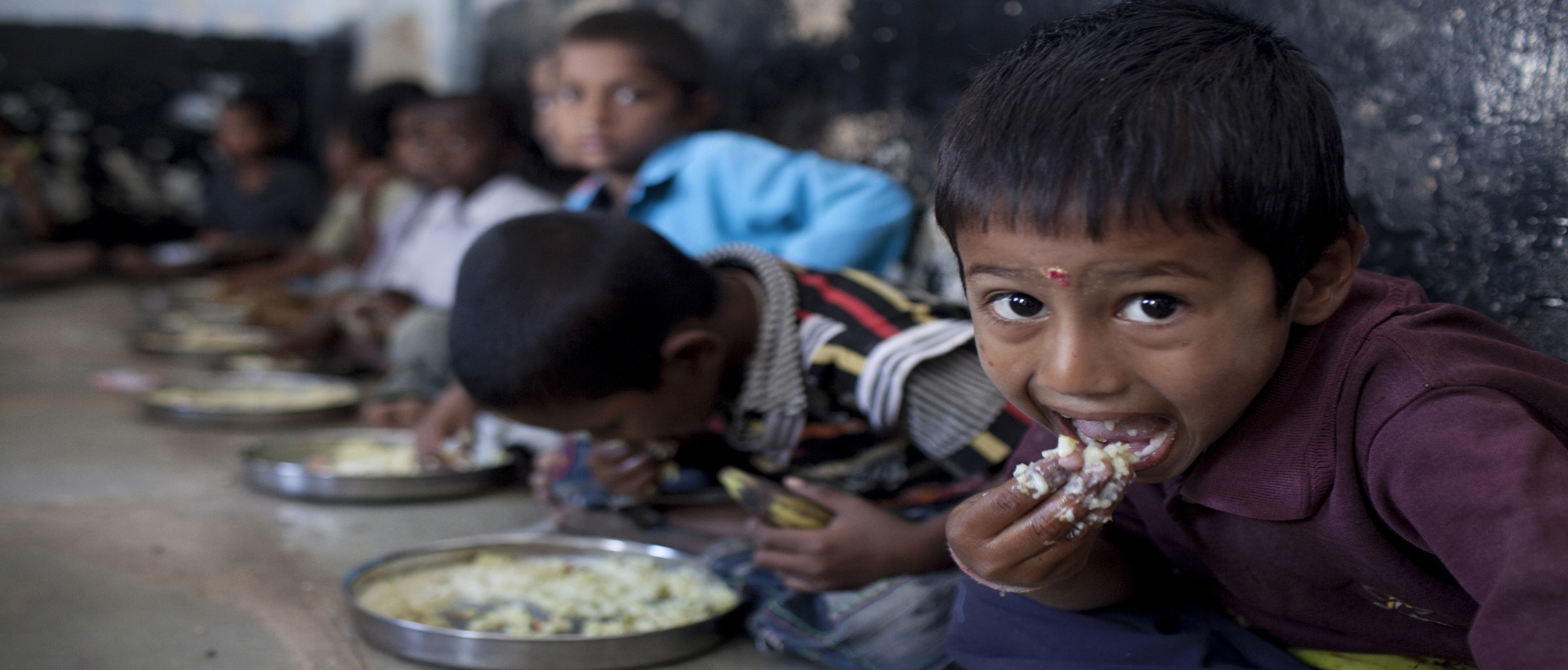 Full bellies means full classrooms
Our Head of Operations Andy shares more about the project and its potential impact: 'hunger not only keeps some children out of school, it also reduces their concentration if they do attend. The positive effects of proper nutrition towards improving education is well researched'.
On the day the kitchen opened Pankaj Sharma, the Kusuma Foundation India's Country Leader, who spent a day at the kitchen and visiting school on one delivery route, had this to add: 'The van I was in travelled 60 kms and visited 7 schools in the planned time. At each school the team checked the temperature and quality of the food, and reminded teachers about a hand-washing campaign before delivering the food. At the final school, I stayed on to talk to the children and teachers. The smile on the face of pupils upon eating the meals and the thumbs-up from them was proof that the programme is making a difference.'