Thomas's Schools Foundation – Readers' Cup
A unique reading competition for primary school children
The Thomas's Schools Foundation was created 'to enrich the educational experiences' of children who live in the local communities of the Thomas' London Day Schools, which are located in Battersea, Clapham, Fulham and Kensington. As members of that community, and with a strong family connection to the schools, we were excited to provide funding for their 2018 Readers' Cup. Now in its eighth year, it's a team competition between primary schools in these neighbourhoods in the style of University Challenge. Year 6 pupils from 16 primary schools answer questions based on a set booklist, culminating in a Grand Final in June.
A tale of four boroughs

Speaking about the Foundation's work and The Readers' Cup, our Executive Trustee Soma says, 'The Thomas's Foundation is an independent organisation of volunteers and, as well as overseeing the bursary programme, they develop fantastic community outreach projects in communities which have fairly high rates of child poverty. The Readers' Cup is a brilliant way to encourage children to enjoy reading no matter what background they have, and it's the only reading competition of its kind in London.'
Each year, 36 pupils from 4 schools in the 4 London neighbourhoods take part. The first stage of the competition pits local schools against each other. In preparation children have to read three selected books and during the competition they're asked 10 questions per book, plus 10 general literacy questions. In 2018 the winners progressed to the inter-neighbourhood Grand Final on June 11th. 
144 Year 6 pupils participated from 16 primary schools across 4 London boroughs.

The selected books were

Pugs of the Frozen North

,

The Guggenheim Mystery 

and

The Girl of Ink and Stars.

The four winning schools were Westbridge (Battersea), High View (Clapham), Sir John Lillie (Fulham) and St Thomas' (Kensington).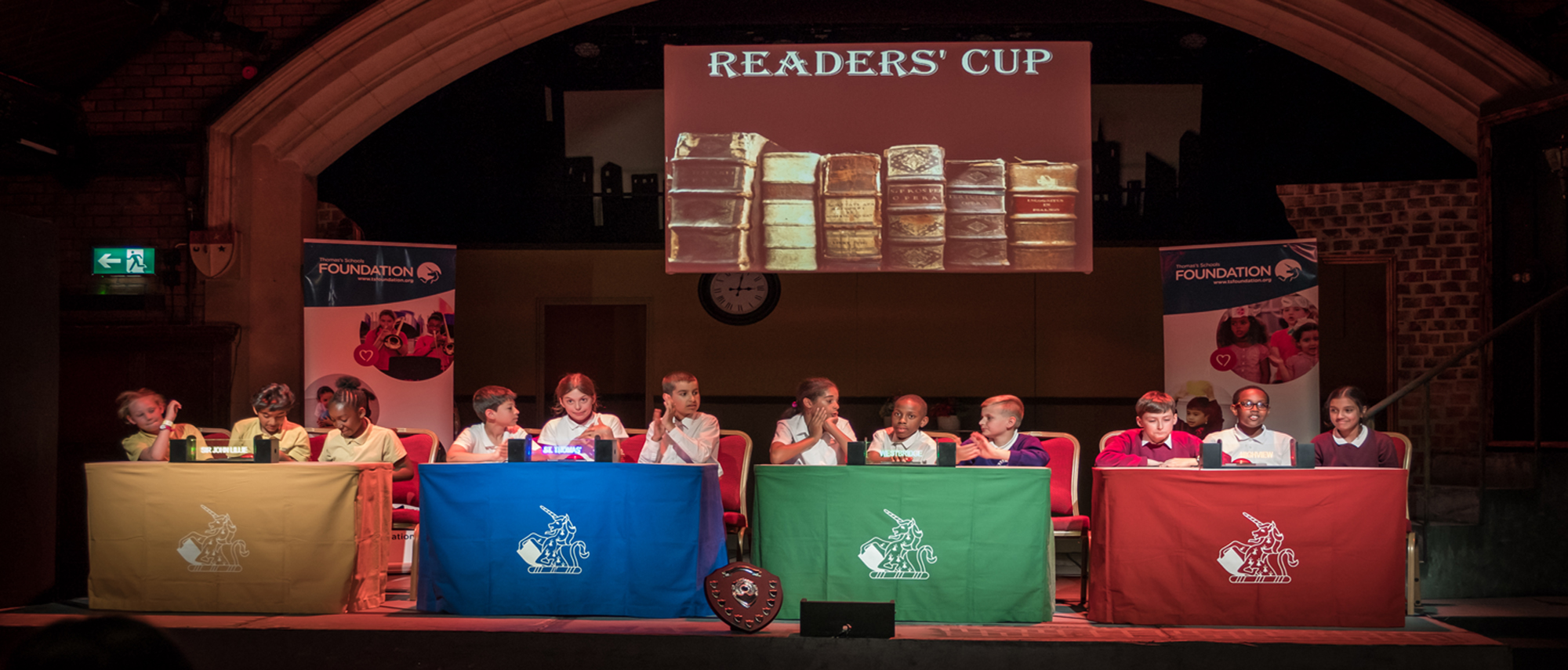 If at first you don't succeed
To up the ante for the 2018 final, an extra book was added and children faced 15 questions per book. The atmosphere was electrifying – scores were very close going into the last round of questions. Sophie Bennett, children's author and patron of the 2018 Readers' Cup, said 'it was such a pleasure to be at the event. Beautifully organised by everyone concerned and full of excitement for the teams. Thank you all for looking after me.'
'As you probably noticed, I just love the Readers' Cup. I love that we quite literally put young people up on a pedestal, give them a platform and encourage them to take a risk and to show the world what they can do. And, boy, did they show us! Yesterday's Grand Final was such an uplifting event, for those children, for their families, for the volunteers who had worked with them and for our communities.'